How can we help finding a lost pet?
Created on 1 January, 2023 • Use Cases • 663 views • 4 minutes read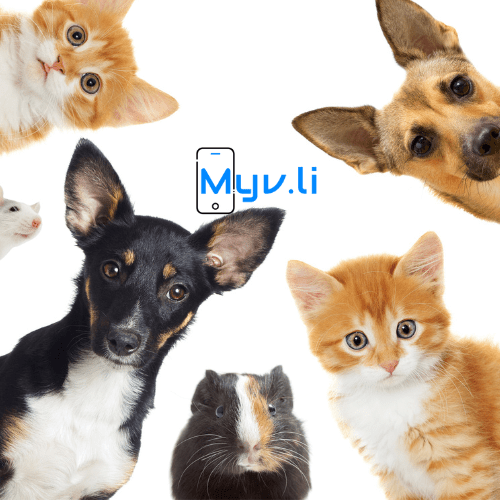 Luis used myv.li to create a QR code and contact bio page for Zeus's collar.
Introduction:
One common concern for pet owners is the possibility of their pets getting lost and unable to find their way home. When it comes to keeping our beloved pets safe, many of us will go to great lengths to ensure their well-being and protect them from harm. In the past, this meant relying on traditional methods such as tags with phone numbers or addresses inscribed or putting up flyers in the neighborhood. However, with the advent of technology and the internet, there are now more advanced and efficient ways to reunite lost pets with their families.
One great solution is using a combination of QR code and bio page, or vcard, which can be easily created on myv.li. This case study will explore the experience of a pet owner, Luis, who used myv.li to create a QR code and contact page for his dog's tag and how it ultimately led to the successful reunion of his lost pet.
Background:
Luis is the proud owner of a friendly and energetic dog named Zeus. Like any responsible pet owner, Luis is always looking for ways to ensure Zeus's safety and protect him from harm. When it came time to give Zeus a new tag for his collar, Luis knew that he wanted to do something more than have his phone number inscribed on it. He wanted a way to quickly and easily provide all of the necessary information to anyone who might find Zeus if he ever got lost.
After some research, Luis discovered myv.li, a website that allows users to create unique QR codes and pages for their pets. Intrigued by the idea, Luis decided to try it and see if it could help him keep Zeus safe.
1. Creating the Bio Page or Vcard link
Creating a bio page on myv.li was straightforward for Luis. He went to the website and followed the prompts to create a new page. He entered all the necessary information, including his name, phone number, and home address. He also uploaded a picture of Zeus so anyone who found the dog would know what he looked like.
One of the great features of myv.li is that it allows users to customize the contact page with their personal touches. Luis was able to add a brief description of Zeus, as well as a list of any medical conditions or special needs that the dog might have. He also included a reward offer for anyone who could return Zeus safely.
2. Downloading and Engraving the QR Code
Once Luis created the bio page, he could download the QR code and engrave it onto a new tag for Zeus's collar. The process was quick and easy, and Luis was thrilled to have a new, improved way to keep Zeus safe.
The QR code on Zeus's tag was small and discreet, but it contained a wealth of information that could be accessed with a simple scan. Anyone who found Zeus and wanted to get in touch with Luis would need to scan the QR code with their smartphone and be directed to the bio page Luis had created. This provided a quick and easy way for anyone who found Zeus to get in touch with Luis and help reunite the lost pet with his family.
3. Zeus Goes Missing
A few weeks after Luis had given Zeus his new tag with the QR code, the worst-case scenario happened: Zeus got loose from his leash during a walk with Luis and was nowhere to be found. Luis searched everywhere for Zeus, but he was nowhere to be found. Luis was devastated, but he knew he had done everything he could to ensure that Zeus could find his way home.
4. Zeus is Found and Reunited with Luis
A few days later, Luis received a call from a kind stranger who had found Zeus wandering the streets. The stranger had scanned the QR code on Zeus's tag and been directed to the bio page that Luis had created on myv.li. The stranger quickly got in touch with Luis and arranged for Zeus to return home safely.
Luis was overjoyed to be reunited with Zeus, and he knew it was all thanks to the QR code and bio page he had created on myv.li. He was so grateful for the service that myv.li provided, and he knew that he would always use it to keep his beloved pets safe and sound.
Conclusion:
In the end, Luis's experience with myv.li was successful. The website was easy to use and gave Luis a quick and efficient way to create a unique QR code and bio page for Zeus's tag. Most importantly, it helped to reunite Luis with his beloved dog when Zeus got lost, and for that, Luis was forever grateful.
Luis's story is just one example of how myv.li can help pet owners keep their beloved animals safe and protected. Whether you have a dog, cat, or any other type of pet, myv.li provides a simple and effective way to ensure that your pet will always be able to find their way home if they ever get lost. So if you're a pet owner looking for a reliable and easy-to-use solution to keep your pet safe, give myv.li a try – you won't be disappointed.